Thank you for coming. We loved seeing you!

From our versatile SEFAR® PET 1500 line to meeting the needs of high-end industrial screen printers with SEFAR® PME, we have a mesh for every application.
Sefar now offers CST direct-to-screen imaging equipment. CSTs technology can be used in virtually any screen printing application, including graphics printing, glass printing, membrane switches, nameplates and more.
Pair CSTs screen imaging technology with Sefars renowned printing mesh to produce an unbeatable combination!
Sun Chemical, a member of the DIC group, is a leading producer of printing inks and coatings, pigments, liquid crystal materials, polymers, liquid compounds, solid compounds, and application materials.
Sun Chemicals unparalleled global presence allows for the delivery of local service and support that is customized to the markets it serves. Recognized as a leading source of innovation, Sun Chemical and DIC have 17 research and development centers that are committed to creating solutions that improve productivity, create new revenue opportunities for customers, and contribute to a more sustainable future.

CST GmbH is a leading global company supplying state of the art screen imaging to the graphics world. Our patented production methods provide the best possible solutions to the most demanding applications.The new imaging system, utilizing a DMD chip manufactured by Texas Instruments, allows for variable resolution, very fast engraving speed and low production costs.

Polymershapes is the premier distributor of plastic film, sheet, rod, tube and associated products, with over 70 years of industry-leading heritage. We have the industrys most knowledgeable and highly trained sales and customer service team.
Our network of 70 stocking facilities, located throughout the US, Canada, Mexico and Chile, enables our customers access to extensive local inventory from world-class supplier partners, and we can provide same day delivery in many locations. We offer expert conversion capabilities including film conversion, cut-to-size sheets and CNC routing and machining. We consistently deliver innovative solutions to delight our customers.
Tekra is a coater, convertor, and distributor of high performance plastic films and adhesives. With 3 state of the art coating lines, Tekra applies functional and digitally print receptive coatings to a variety of films.With our hard coated Marnot®, Marnot Advanced™, and ProTek® line of films, Tekra offers functionality to films with enhanced scratch, abrasion, and chemical resistance along with the ability to change appearance of the film. Our print receptive coatings allows films to be printable via digital presses such as HP Indigo, Toner, and UV, Solvent, and Latex inkjet presses.

My Press Needs, LLC is dedicated to the advancement of die cutting technology for the benefit of the printing, packaging, and general converting industries.Its No More Make Ready Crest™ Clamshells provide fast setups of 10-15 minutes with no deflection for a variety of applications, including die cutting, embossing, foil stamping, and kiss cutting. Founded by Rob Weidhaas in 2000, My Press Needs most recent innovations include the Widemouth™ and Zero Make-Ready Soft Cut™ System. The company recently partnered with National Steel Rule to open their Die Cutting Technology Center for research and development, testing and education. For more information, visit .
The Mosaica Group is a Midwest-based supplier supporting wide format, sublimation, offset, digital, and other print processes.Count on our team to listen closely to the needs of your printing operation. We apply broad expertise in sustainability, G7® color management, workflow systems and more to craft solutions that address your current and evolving challenges. Just as important, we take the time to show your team how to get the most from every piece of equipment and product we provide.
We dont just sell supplies. We sell success.

THIEME is an international leader in high-quality screen and digital printing systems.Our products are state-of-the-art and distinguish themselves by delivering the industrys highest print quality and efficiency. For inquiries, contact:Joe Klint,

In 2002, Phoseon Technology pioneered the use of LED technology for UV curing applications.As the world leader in UV LED curing, Phoseon provides patented LED technology to deliver rugged, high-performance products for application specific solutions. The company is focused 100% on LED technology and provides worldwide sales and support capabilities.
Phoseons patented Semiconductor Light Matrix™ (SLM)™ technology encapsulates LEDs, arrays, optics and thermal management to ensure curing performance. Each of these four components are a strictly engineered system that provide maximum UV energy and superior performance while also increasing long-term robustness for demanding applications.

3M Science. Applied to life. 3M is a global innovation company that never stops inventing. Over the years, our innovations have improved daily life for hundreds of millions of people all over the world.We have made driving at night easier; made buildings safer; and made consumer electronics lighter, less energy-intensive, and less harmful to the environment. We even helped put a man on the moon. Every day at 3M, one idea always leads to the next, igniting momentum to make progress possible around the world.

Sakurai is the global leader in screen press technology with over 5,000 presses installed worldwide.Sakurai cylinder screen presses are available in sizes from 20 1⁄2 X 28 1⁄2 to 48 X 63. Fully automated Sakurai offset presses are available in two through eight-color configurations in widths from 20 X 26 to 23 5/8 x 31 1/8 with coating and perfecting.
Sakurai also offers a rotary die-cutter and a full line of Natgraph drying systems. Sakurai presses are distributed in the U.S., Canada, Mexico, Central and South America by Sakurai USA, backed by responsive customer support, service, replacement parts and training.

MacDermid Autotype is a global leader in formulation and coating technologies for high performance film applications.Our hardcoated polyester and polycarbonate films are unsurpassed in selection and performance and include stabilized and planarized variations. Our photosensitive stencil systems and cleaning chemicals are highly regarded for screen printing processes.
Chromaline Screen Print Products is a leading developer, manufacturer, and worldwide marketer of photostencil emulsions, capillary films, screen chemicals, and inkjet media for creating positives.
For over 60 years, Chromaline has lead the industry in engineering the highest quality products used in a multitude of printing applications. From textiles to graphics, to electronics and industrial printing, whatever you print, wherever you print, however you print, Chromaline makes your job easier.

Ritrama is a family owned international group of companies dedicated to the worldwide manufacturing and sales of pressure sensitive adhesive-based materials.Ritrama manufactures a full line of pressure sensitive materials for the visual communications and graphics market, including products in the screen, digital and cast vinyl markets. The wide range of products includes short or long term durability, indoor and outdoor characteristics, and permanent or removable adhesive requirements for wide format media, over laminates, mounting films and vehicle wrap materials.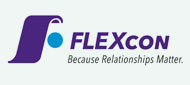 FLEXcon is a global leader in coated and laminated films and adhesivesused in graphics applications, manufactured goods and new products.
Nazdar® manufactures the most comprehensive range of ink solutions in UV, UV-LED, water-based, and solvent-based technologies for the printing industry.Whether it is for graphics or industrial, digital, screen, or flexographic, Nazdar has an ink to meet your application needs. Manufacturing in the United States and United Kingdom complemented with an experienced global network of partners enables Nazdar to serve your local market.

Our company has supplied intelligently-supplied automation in screen printing since 1983 nationwide.
The recent introduction of our OEM family of fineLine pre- and post-press equipment is a perfect addition to the successful range of the fineLine directLaser! digital screen image setter that received the prestigious SGIAs 2106 Product Of the Year Award.
Our unique Screen Imaging Technology Center in Ohio allows screen printing professionals to attend a personalized demo of our direct laser screen image setter and witness the effortless, high-quality screen imaging process with their screens, prepared with any screen mesh/emulsion type/EOM combination.
FUJIFILM North America Corporation, a marketing subsidiary of FUJIFILM Corporation, consists of five operating divisions and one subsidiary company: Imaging, Electronic Imaging, Motion Picture, Graphic systems, Optical Devices and Fujifilm Canada.
The Graphic Systems Division of FUJIFILM North America Corporation delivers solutions for workflow, consultative services, remote monitoring, color standardization and G7 implementation, pressroom products, CTP, proofing, digital printing, wide format, packaging, labels, specialty printing, and more. Fujifilm also manufactures and distributes Sericol inks and is a leader in the development of UV inks for the screen printing, narrow web, and large format digital printing industries.

Mimaki is a global industry leader of wide-format inkjet printers, cutting plotters, 3D modeling machines, software, hardware, and associated consumable items, such as inks and cutting blades.The company engineers and manufactures a complete range of products that attain the total workflow solution for sign and graphics, textile and apparel, and industrial printing professionals. Mimaki excels in offering superior quality and reliable products, based upon its aqueous solvent and UV-curable inkjet technology. As an innovator and strategic partner, Mimaki is committed to always providing something new, something different in the marketplace.

RH SOLUTIONS LLC is a supplier of premier screen printing machinery and auxiliary equipment from R2R PRINT SOLUTIONS, SIASTECH, ADCO, SPS, and award winning ATMA CHAMP.Driven by more than 30 years of industry experience, we provide top-quality products and support for your precision screen printing needs. Our extensive range of machines are roll-to-roll, multicolor inlines, flatbed presses, cylinder presses, formed parts, curved, and optoelectronic high-precision screen printers with fully automatic CCD registering.
Our auxiliary equipment is automatic emulsion coaters, automatic squeegee sharpeners/cutters, LED exposure units, stackers, forced air dryers, infrared, UV, and combination conveyorized dryers.

SAATI is a manufacturer of screen making supplies including SAATI mesh, emulsion, film, reclaim chemicals, block outs, and mesh preps.SAATI also distributes screen making equipment like the SAATI LTS6080 laser image and exposure unit, and is the exclusive distributor of Duralife squeegee. SAATI provides quality products, innovative solutions and technical support for screen printers.

NBC Meshtec Inc. is a top-tier manufacturer of the highest quality screen printing mesh. From textile to high-end printed electronic applications, NBC mesh provides the quality and value demanded by todays screen printers.We offer a full line of the most advanced polyester and stainless steel mesh available. Additionally, we manufacture proprietary meshes, such as tungsten wire and V-Screen that deliver unmatched strength, resolution, and dimensional accuracy for critical applications.
We provide expert technical support and partner with other companies who manufacture high-end pre-press supplies in order to provide printers with a one-stop complete prepress solution.

AFC is a global provider for high-temperature and non-stick solutions. For 30 years, we have specialized in the design of PTFE and silicone-coated fabrics, belting, and tapes for the most demanding applications.
When it comes to the screen printing industry, AFC has developed products for drying, fusing, and laminating processes. Our DuraFlow® mesh belting is commonly used due to its combination of durable PTFE coating and breathability to withstand hot, steaming environments. We also offer a variety of fabrication options to ensure your belts track and perform at their best.
Our team looks forward to meeting you July 18-19th.
Natgraph is the worlds leading manufacturer of conveyorised drying technology used in the screenprinting industry.Since 1979, this British company has in-house manufactured over 14,000 pieces of equipment, operating in over 100 countries, including more than 4,500 dryers installed.
Industrial applications, (where screenprinting is utilized as a vital part of a manufacturing process), have become Natgraphs territory; these installations require tight process control, economical operation and increased efficiency to deliver higher yields.
Natgraphs conveyorised drying technology uses Forced Air, Infra-Red, and Ultra Violet technology to deliver the optimum solution. PLC-based Intelligent Energy Control Systems and heat exchangers typically reduce energy usage by 50%.

As a leading backlighting supplier to HMI customers Lumitex produces custom lighting products and systems for many manufacturers of membrane switches, keyboards, LCD displays and capacitive touch applications.
Our UniGlo® Fiber Optical Panels and Clad Flat Fiber™ Light Guide Film technologies are thin backlighting solutions ideal for spreading light uniformily and illuminating your brand.
Key features and benefits of our product line include:
• Functionally Thin: Provides minimal impact on a customers design
• Design Flexibility: We offers multiple design approaches to satisfy customer requirements including quick turn prototypes which are easy to adapt for design changes, with minimal tooling charges

Global Graphic Resources represents premier product manufactures for the screen print, digital and roll label markets.We research innovative and reliable products globally and make them available to the North American market. Our dedicated team of industry experts will help you find the right solution to create the value need.

Lawrence & Frederick is Americas foremost distributor of anodized and raw aluminum specific to the product identification market.L&F has also developed a high quality line of UV ink receptive coated and painted aluminum for both digital and conventional screen print applications.
Regal Graphics is a full-line distributor/converter of high quality, printable plastic films and digital media.We offer clean room converting facilities nationwide. SABIC Lexan, MacDermid Autotype, and NECAL adhesives are but just a few of the many quality products Regal Graphics provides.
Znd is known worldwide as the leading manufacturer of multifunctional digital cutting/routing systems for the graphics, packaging, and other industries.With the G3, S3, and now D3 lines of flatbed cutters, Znd offers a complete range of digital finishing solutions for custom to high-volume, 24/7 graphics production, involving rigid and/or flexible substrates.
NECAL Corporation is an adhesive manufacture and converter for 45+ years. NECAL provides performance adhesive systems that test at or better than our competitors at an economical cost.Our goal is to build long term relationships for a win-win outcome to the market place and preserve a legacy for future generations.
Demak, world leader in the manufacturing of doming equipment, is your ideal partnerin the doming of standard and special labels, emblems and decals by supplying the most advanced technology available on the market, starting from basic machines to completely automated lines for the fast curing of the resin.
Curbell Plastics, Inc. is one of Americas premier suppliers of plastic sheets, rods, tubes, films, tapes, adhesives, sealants and prototyping materials.With locations across the U.S., we offer custom fabrication, exceptional service, and next-day delivery of high-quality plastics nationwide. Put us to work for you!™
General Formulations is a US manufacturer of pressure sensitive films for screen and offset printing, sign vinyl, and digital media.We have several solvent and water-based coating lines as well as one of the largest converting operations in the industry, specializing in slitting, sheeting, punching and packaging.
D&K is a leading manufacturer of quality print finishing solutions. D&K products are made in the USA and include thermal, heat assist,and pressure sensitive (cold) laminating films and adhesives, wide format and desktop laminators, automated one or two sided high-speed laminating systems, and much more.
Specializing in HMI devices, SSI Electronics is headquartered in Grand Rapids, MI and has been manufacturing membrane switches, rubber keypads,touch screens, flex circuits and disposable medical sensors/circuits for 35+ years. With on- and offshore manufacturing capabilities and ISO certifications, SSI is uniquely positioned as a leader in their industry.
Founded in 1960 dedicating to research and development, ACHEM is the world-leading supplier of Selfwound Overlamination and Pressure Sensitive Tapesto the packaging, industrial and printing industries. ACHEM has established a strategic nationwide distribution and converting network to serve both local and national tag and label manufacturers.
William Frick & Company is a customer-driven ISO 9001:2015-certified processes manufacturer of RFID tags, specialty labeling, and marking products.Their most recent product release, SmartCAT, is an RFID mobile data platform. Since 1975, William Frick & Company has proven itself as a reliable, innovative, and trusted source of high-quality products.
Easiway leads the screen printing and graphic arts industry with the development of innovative, high performing, environmentally conscious, economical cleaning products.Our goal at Easiway Systems is to provide screen printers with cleaning products and equipment that will outperform the competition by decreasing the time spent reclaiming and the amount of chemical consumed.
For 125+ years, KIWO has been a global manufacturer of screen making/cleaning products, equipment, adhesives, emulsions and the latest CTS system, the KIWO XTS.Ulano has been a leader in the screen printing/graphics arts industry for 75+ years and specializes in the manufacture of stencil-making products/chemicals for screen process printing.
Sharp Packaging has been designing and manufacturing flexible packaging systems and bags since 1984. Our machines are ideal for packaging almost any product;from small, single machine operations to global companies with facilities across the world. Any industry benefits from our flexible packaging solutions with reduced costs and improved productivity.
Convertible Solutions is a manufacturer and supplier of premium papers for the digital print industry, providing pre-converted solutions for lay-flat booklets and brochures, mailing pieces, and ultra-thick cards.
ORAFOL Americas Inc., a subsidiary of ORAFOL Europe GmbH, is a leading global manufacturer of premium vinyl graphic products, reflective solutions, and adhesive tape systems used in the signage, graphics, industrial, and traffic and safety applications. The companys distribution network spans the United States, Canada, Latin America, and the Caribbean.
Impact Printing join forces in the US with One Emblems, producer of Kromex, Ecoprint, and HDR (3Dimensional Emblems)along with many other types of labels sold worldwide between the two companies. They bring to the US market over half century experience, heavy investment in technologies, style, and Italian craftsmanship.
Huzzard Systems provides technology solutions that help organizations present, collect, and share information.
• We engineer print on-demand label systems that reduce waste.
• We develop applications that provide quick access and easy updating of electronic documents, like SOP and SDS.
• We design tracking solutions that eliminate manual data entry and improve quality control.

Atlas Screen Supply Company is dedicated to providing supplies, equipment and educationto our customers. Atlas represents quality manufacturers such as Chromaline, International Coatings and Vastex.
Manufacture UV/EB/LED and water-based coatings, inks, and adhesives for packaging and printing on labels,flexible packaging, paper-based packaging, rigid packaging, and publication/commercial segments.
Helping print and sign businesses grow for over 85 years.Midwest is your leading distributor of sign, screen printing, and digital products.
Mactacs roll label solutions can be found in hundreds of industries and applications:refrigerated and frozen foods, durable goods, security and safety, health and beauty products, and more.
NKS Alloys is a nonferrous service center specializing in aluminum and stainless steel sheets and slit coil.We provide stainless, brass, and aluminum substrates for the product identification industry.

GPI is a trade organization that brings the engineered graphics industry together.Through educational meetings, networking opportunities, and peer to peer interaction, GPI provides members with the opportunity to learn, grow and thrive.
The Specialty Graphic Imaging Association (SGIA) is the trade association of choice for professionalsin the industrial, graphic, garment, textile, electronics, packaging and commercial printing communities. Longtime champions of digital technologies and techniques, SGIA is a community of peers to help you navigate the challenges of expanding into new market segments with the latest printing technologies. Join us at .
Jared Blake, from NBCs season 1 of The Voice, has been sharing a living above approach to lifewith youth around the country with his program, Live To Be. Join the movement!
Tortal Training is a custom content talent development company which specializes in learning strategy, development, and technology.They work with over 130 companies across the globe.
For close to 150 years, weve stayed true to Jacob Leinenkugels visionfor combining the German brewing traditions of his homeland with the innovative spirit of his new home in Wisconsin.
Dr. Steve is wise, funny, and highly effective. Using hurmor, astonishment, stories, mind hacks, and timeless wisdom, Dr. Steve will help you and your important people.
Paddle to the Amazon: The Ultimate 12,000 Mile Canoe Adventure is an international best seller.Dana Starkell tells the true story of the worlds longest canoe journey. Renowned for its memorable impact on audiencesa tale of adventure, perserverance, and triumph over adversity.
Fat Pats BBQ serves traditional Texas-Style BBQ right here in the heart of the upper Midwest. Fat Pats started in 2017 in Spring Grove MN.However, owner Patrick Longmire, Jr. has been honing in on his smoking BBQ craft since 2015. His knowledge and skill was obtained and perfected in the heart of the barbeque state: TEXAS!
Through its unique venue and chef-centric food, the ambitious entrepreneurs behind the Apothik brand underscore the importance of supporting local businessesand farmers, all while introducing its cliental to a wide array of sinfully delicious food.
We are a small, family-owned company based in Southeastern Minnesota.We are passionate about wood-fired pizza and cater to fairs, festivals, private parties, weddings and more.
We work with other local businesses to source our ingredients and our scrumptious baked goods are always made from scratch.Most of our toppings and condiments are also freshly House-made.
Box 218, N5206 Marco Rd. • Onalaska, WI 54650 •